PALESTINE DIVIDED
It used to be one land, one country: historic Palestine. Now, the two parts of the territories under Israeli military occupation, the West Bank and Gaza Strip, are not connected in any way and Palestinians cannot travel from one to the other. This is a story of people, and a country, divided.
A group of young Palestinian musicians from the Gaza Strip try to go on a cultural visit to the West Bank – but are prevented from doing so by Israel. Israeli policies on the ground maintain an almost total separation between the West Bank and Gaza Strip, both areas occupied by Israel since 1967.
The Gaza Strip: a 360 square kilometre strip of land on the eastern Mediterranean, and home to 1.8 million Palestinians. The West Bank: 5,500 square kilometres, west of the River Jordan, and home to 1.7 million Palestinians.
The partition was done in such a way That makes the creation of a Palestinian state very difficult.
ABDUL SATTAR KASSEM
POLITICAL ANALYST AND ACADEMIC
Both areas were once part of the same country: historical Palestine. A Palestinian in the 1940s was able to drive from one part to the other in less than two hours.
In 1947, the UN General Assembly voted in favour of partitioning Palestine between Jews and Palestinians. Yet after the 1948 war, only 22 percent was left for the Palestinians: the West Bank and Gaza Strip. This remaining 22 percent was later occupied by Israel in 1967.
Today, no Palestinian can travel between the Occupied West Bank and the besieged Gaza Strip without an Israeli permit that is almost impossible to obtain.
They imposed restrictions on movement and different ways of dealing with each territory. Even in jails, Gazan and West Bank prisoners are separated.
DR. NASHAT-AL AQTASH
POLITICAL ANALYST AND ACADEMIC
Mohamed Al Hajran is a Palestinian from Jericho in the Occupied West Bank. His wife Kawkab is a Palestinian from the Gaza Strip. When their son Ihab was born, they had to decide where to register him. Whichever they chose would mean restricting the boy's access to one side of his family.
Mohammed's case was one of the cases taken up by Israeli NGO Meslek, which runs a freedom of movement centre.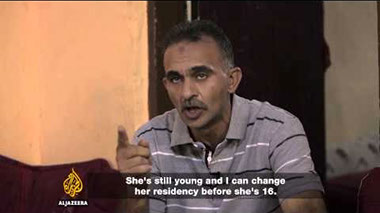 After some years, Israel finally agreed to change Kawkab Al Hajran's Gaza ID to a West Bank one – but on condition that she present herself to the occupation authority's Civil Administration in the West Bank to complete the change-over process. The Israeli security services, however, refused to issue her with a permit to travel from Gaza to the West Bank to complete this procedure.
This is a story of two Palestinians who can never visit each other or meet, just because one was born in the occupied West Bank and one was born in the besieged Gaza Strip. Though both are Palestinians and both are under Israeli occupation.
BORDERS
DIRECTED BY
ASHRAF MASHHARAWY
PRODUCER
MOHAMED AL-SAWAF
CAMERAMEN
HASSAN MASHHARAWY
MOHAMMED MASHHARAWY
FEDERICO PAJA
HANA ABU SADA
YORAI LIEVERMAN
MOHAMED SHARIEF
EDITOR
HASSAN MASHHARAWY
PRODUCTION HOUSE
MEDIA TOWN, PALESTINE
COMMISSIONING SENIOR PRODUCER
RAWAN DAMEN
PRODUCTION YEAR
2015
REVERSIONED BY AL JAZEERA WORLD TO ENGLISH – 2015
COPYRIGHT © ALL RIGHTS RESERVED FOR AL JAZEERA
RETURN TO TOP