Known by its Hebrew acronym "Shabak", Shin Bet is one of the most powerful security organisations in the world. Shin Bet had historical links to the Zionist paramilitary groups that operated prior to Israel's creation.
Shin Bet is infamous for the torture and killing of Palestinian detainees. The UN Committee Against Torture has condemned Shin Bet for its use of violent interrogation tactics, which continue today.
Shin Bet is no different from the other two security divisions in Israel. They all started as secret organisations that preceded the formation of Israel. The intelligence body of the Haganah army was the seed that created Shin Bet.
BARAK BEN-ZUR
ISRAELI FORMER SPECIAL ASSISTANT TO SHIN BET DIRECTOR
Many practices legal for Shin Bet are illegal for the police. If Shin Bet detains you, you have no right to a lawyer for up to 20 days.
AVIGDOR FELDMAN
LAWYER
David Ben-Gurion, Israel's first Prime Minister, drew forces from the paramilitary group, Haganah, to form Shin Bet. Haganah was notorious for its use of violence against the Palestinians and the British before Israel was created.
Since its establishment, Shin Bet has used violent interrogation methods on its prisoners. Today, it denies them even their most basic rights, preventing them from seeing their lawyers and ignoring due legal process.
[Shin Bet] use psychological torture a lot. When [a Palestinian detainee] realised they'd tortured his father and wife the same way they'd tortured him, he tried to commit suicide.
ISHAI MENUCHIN
PUBLIC COMMITTEE AGAINST TORTURE IN ISRAEL
Shin Bet agents wield total control over 1.5 million Palestinian citizens. Yet, they are immune from prosecution. Hussein Abu Hussein, a Palestinian human rights lawyer, described Shin Bet's relationship with Palestinians who live inside Israel and hold Israeli passports: "Shin Bet enjoys complete control over the lives of Arab citizens […] and infringes upon basic human rights like people's ability to express their opinions and to demonstrate."
In April 1984, four armed Palestinians hijacked an Israeli bus and forced it to drive towards the Egyptian border. In response, Shin Bet chief Avraham Shalom captured the hijackers in the Gaza Strip. The four men were shot and killed in cold blood. Shin Bet initially denied the killings, despite several eyewitness accounts.
In the wake of what came to be known as the Bus 300 incident, Israel's Knesset formed the Landau Commission, which examined Shin Bet's activities. The commission concluded the organisation used violent methods, but that 'a moderate measure of physical pressure cannot be avoided'.
Shin Bet infringes basic human rights. It prevents people's ability to express their opinion, gather and demonstrate.
HUSSEIN ABU HUSSEIN
PALESTINIAN LAWYER
On the ground, this appeared to mean Shin Bet had license to do almost whatever it wanted to its detainees, operating outside the law.
Any citizen, any policeman or diplomat who commits a crime is subject to interrogation except for Shin Bet officers. Where's the sense in that?
NABEEL DAKWAR
PALESTINIAN LAWYER
Shin Bet is particularly interested in the lives and activities of Palestinians with known political connections. Shireen Essawi, a human rights lawyer, became one of its targets. She was arrested at an Israeli checkpoint in 2010, detained and subjected to violent and degrading treatment. In 2013, she reflected on how she could never forget her ordeal. In 2014, Essawi was imprisoned again.
They tied my hands and legs and blindfolded me, and repeatedly dragged me along the floor, slamming me against the wall.
SHIREEN ESSAWI
FORMER DETAINEE
Jihad Mughrabi was also imprisoned by Shin Bet. He was thrown into a cell and held without trial. He was never charged or told what crime he was suspected of committing. In 2008, Mughrabi was sent to the hospital, suffering from internal bleeding and breathing difficulties. Two hours later, he was released back to Shin Bet officers who beat him, inflicting serious head wounds. His lawyer filed a petition against the doctors who failed to report the injuries. The petition was ignored.
Mughrabi and Essawi were subjected to increasingly harsh treatment as their detentions dragged on. Their stories are not unique. There are countless Palestinians tortured at the hands of Shin Bet. Psychological torture is particularly prevalent.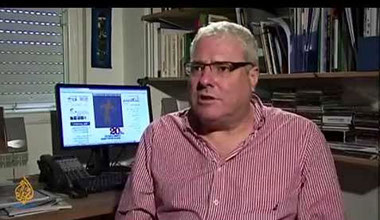 The interrogator told me he had a surprise for me. He took me outside and told me to look through a keyhole. When I looked, I saw my mother, handcuffed, asking for water.
JIHAD MUGHRABI
FORMER DETAINEE
Mughrabi's detention has had a lingering effect on him. Essawi, as a human rights lawyer, says her treatment was brutal, but it gave her insight into what many of her clients endure. Shin Bet has tortured thousands of civilians, carried out assassinations, committed perjury and has been condemned by the UN. Despite clear evidence of its human rights violations, Shin Bet continues to operate today, violently targeting the more than 1.5 million Palestinians who are Israeli citizens, without almost no regard for due process or the rule of law.
ADMINISTRATIVE DETENTION
INTIFADA
GREEN LINE
COLLECTIVE PUNISHMENT
RETURN TO TOP